Competitions in the 2018 Winter Olympics have started in PyeongChang, South Korea, with the official opening ceremonies tomorrow night. This is a good time to learn from these world-class athletes about how they developed their self-confidence and body confidence to perform in front of millions of viewers.
"Develop Self-Confidence 
What exactly is self-confidence? It is an inner feeling of certainty about who you are and what you can do.
Developing self-confidence begins off the golf course. You must believe before you can achieve. As your confidence builds, you move from 'I'll try it' to 'I think I can do this' to 'I know I can' hit the shot, or break or 90, or whatever you desire. As you focus your attention on believing in your ability, you move forward toward your goal and become more confident as your skills improve.
Self-confidence is a product of the way you view yourself. Discover the power of trusting yourself.  If your view of yourself is positive, you feel good about yourself whether you had a good or bad round.  Make a point to notice the way you talk to yourself on and off the course.  Replace negative thoughts with thoughts that can boost your self-confidence.  For example, say to yourself, 'I have hit this shot dozens of times before and I can do it again now', rather than, 'I need to hit this shot close for a birdie to make up for the double on the last hole.'
This state of knowing is accomplished by constantly reminding yourself of what you do well. Think about it often. The more you think about creating what you want, the easier it becomes. Use imagery that depicts yourself as being prepared, in control, confident, having fun, and swinging easily and effortlessly. When you focus on your swing fault or game weaknesses or why you can't hit a shot it becomes difficult. Focus instead on your strengths.
The verbal, visual, and feeling images in your mind form your self-image and self-confidence. World-class golfers constantly repeat their affirming, positive self-talk. They practice these images over and over again in their minds until the image is automatically accepted. Caddies for pro tour golfers also remind their players of what they can do, and have done successfully.
How can you trust if you keep reinforcing the worst? If you are playing well, it is easy to feel confident. However, on-going confidence comes from within. It is a product of believing in yourself and believing that you can improve. With constant reinforcement of this belief in yourself and your abilities, you will develop a state of confidence. If you constantly look at what went wrong, or didn't happen, or could have happened, there will be no confidence. It is important to always look at what you did well, and the accomplishments you did make."
*Excerpts are from Chapter 16, Confidence; "THE HEART OF GOLF, Access Your Supreme Intelligence for Peak Performances."
Play "in the zone" with Joan
Entrain Your Heart & Mind for Peak Performances
To train your brain to play your best golf, listen to Positive Mental Imagery self-hypnosis guided imagery CDs in the privacy of your own home, available at www.pmi4.com/cart
If you aren't able to maintain trust and belief in yourself on the golf course, email Joan at pmi4@bellsouth.net or call 828.696.2547 for a complimentary 15-minute phone consultation about developing a new strategy. Learn what is missing in your golf game so you can achieve the success you desire.
"THE HEART OF GOLF, Access Your Supreme Intelligence for Peak Performances" explores and explains negative emotions such as fear and performance anxiety, the four Cs of mind blockage, the four progressive stages of learning the supreme intelligence of the heart, and the way to access the zone in competition. It is a player's guide for developing your true inner self by returning to the joy and love of self instead of seeking praise and rewards from the outside world.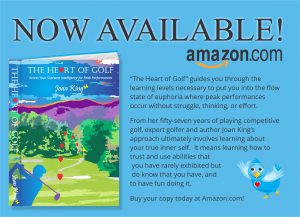 This transformational golf book is available now on
 www.AmazonKDP and http://amzn.to/2znB4tN
 All royalties will be donated to Junior Golf!