Daylight Saving Time has sprung forward giving golfers an extra hour of daylight to play golf. It also means that now is the time to prepare mentally and physically for your return to the golf course.
When you have not played in awhile, it is necessary to refresh your mind and body by reviewing the basics of the golf swing. In order to be successful at golf, you need to have mastered good basic fundamentals. These include the grip, posture, stance, ball position, alignment, pre-shot and post-shot routines. Review your basic mechanics and reacquaint your golf muscles before going to the range to hit full shots. Jack Nicklaus said, "Each year I start the season pretending I've never played before."
Why have a pre-shot routine?  (www.pmi4.com, Archived Newsletters, February 2005)
The pre-shot routine prepares your mind to hit a shot.
A consistent pre-shot routine will produce consistent results.
The pre-shot routine moves you from the thinking phase to the automatic doing phase.
It keeps you engrossed in the moment and your thoughts away from the pressure of the results.
It is a signal to the unconscious mind to get ready to perform.
It is a series of actions to get you totally absorbed in the routine process of getting the ball to the target. 
Why have a post-shot routine?
Your post-shot routine is just as important mentally and emotionally as your pre-shot routine. The post-shot routine helps you to build positive mental consistency. After the shot is hit, the routine prepares your mind to anchor a good shot or to let go of a missed one. Our minds are very active and the memories we remember the most are the ones connected to good feelings or negative feelings. Repetition of a positive post-shot routine will result in establishing the mechanics for more self confidence. A positive post-shot routine will help you to maintain your arousal level and prepare you mentally, emotionally and physically for your next shot.
Establish the mechanics of confidence with your mental, physical, reactions to a shot or putt.
File the memory of a good shot in your unconscious with an inner smile and warm feelings of success.
Release the memory of a poor shot by staying non-judgmental and not emotionally reacting to it.
Take practice swings until you feel the swing that you had intended. What you don't want to do is go to your next shot with the memory of your missed shot in the forefront of your brain because it will be repeated. By finding your rhythm you will forget about the poor shot and focus on feeling your tempo for the next shot.
Mechanics of establishing a post-shot routine:
Release the frustration and anger with a swear word. It has been proven that this works.
Take a deep breath to calm your mind and release body tension.
Do not try and analyze what went wrong with your swing.
Step aside and swing the club you used until you feel the swing you desired.
Focus on accessing your timing and tempo.
Visualize the ball going to the target.
Anchor the good feelings and visualize your perfect shot.
Don't move on down the fairway until you have completed your post-shot routine.
Play "in the zone" with Joan
Entrain Your Heart & Mind for Peak Performances
To train your brain to play your best golf, listen to Positive Mental Imagery self-hypnosis guided imagery CDs in the privacy of your own home, available at www.pmi4.com/cart
For more information about how to play with a better mental game for lower scores and more enjoyment on the golf course, email Joan at pmi4@bellsouth.net or call 828.696.2547 for a complimentary 15-minute phone consultation. Learn what is missing in your golf game so you can achieve the success you desire.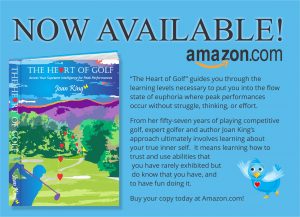 "THE HEART OF GOLF, Access Your Supreme Intelligence for Peak Performances" explores and explains negative emotions such as fear and performance anxiety, the four Cs of mind blockage, the four progressive stages of learning the supreme intelligence of the heart, and the way to access the zone in competition. It is a player's guide for developing your true inner self by returning to the joy and love of self instead of seeking praise and rewards from the outside world.
This guide book for transforming your life and golf game is available now on
www.AmazonKDP and http://amzn.to/2znB4tN
All royalties will be donated to Junior Golf!