Imagine your golf game where you feel in complete control. Where it is easy for you to stay in the moment and focus easily on each shot. You can let go of missed shots and trust your swing. You can make up for missed greens with an accurate short game. Your confidence soars with each shot that you create. When you putt, you remain calm. You possess total confidence and remain composed in competition. Playing the last few holes, your concentration intensifies and you finish strong.
Whether you are a pro golfer, amateur golfer, junior golfer, or golf coach, now would be a good time to gain greater awareness of yourself and your golf game. Available on the Positive Mental Imagery website are the following mental tools for you, or to purchase as a Christmas gift for your favorite golfer.
Learn how to relax, focus in the moment, and enhance your mental golf game by listening to eight different self-hypnosis CDs/Mp3s, available at pmi4.com/cart
Confident Putting for Lower Scores
Concentration for Consistent Golf
Release for Performance Anxiety
Fearless Golf
Confidence to Win Golf Tournaments
Progressive Relaxation of the Mind & Body
Master Your Short Game for Low Scores
Self-Hypnosis for Playing in the Zone
"THE HEART OF GOLF, Access Your Supreme Intelligence for Peak Performances" explores and explains negative emotions such as fear and performance anxiety, the four Cs of mind blockage, the four progressive stages of learning the supreme intelligence of the heart, and the way to access the zone in competition. It is a player's guide for developing your true inner self by returning to joy and love of self instead of seeking praise and rewards from the outside world.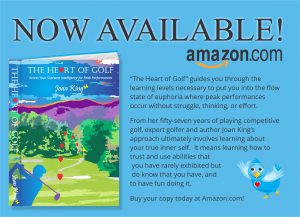 "THE HEART OF GOLF" guidebook for transforming your life and your golf game is available on Amazon and Kindle at https://amzn.to/2MQzjfq   All royalties will be donated to Junior Golf!
3.If you have a question, or need help with your mental game, email Joan at pmi4@bellsouth.net or phone 828.707.5478 for a free consultation to learn about mental golf coaching in person, or world-wide by phone. Learn what is missing in your game so you can achieve the success you desire.
4.Gift certificates for your special golf friend or relative are available on the Positive Mental Imagery website at bit.ly/3Y7b3tE
Play "in the zone" with Joan
Entrain Your Heart & Mind for Peak Performances